Request Activation Codes
If you are using Info-Explorer Lite (free version of Info-Explorer), you can apply for an activation code to continue using the demonstration cubes after the 30 day trial. 
If you have purchased a licence for Info-Explorer Full or Writeback, you can follow the same steps to request an activation code.
To enter the activation code for all versions of Info-Explorer, refer to Register Info-Explorer .
Licencing method

Info-Explorer activation codes depend on the Company Name and the Computer Name on which the programs are installed. If you upgrade your machine or get a new machine (ie change the Company Name or Computer Name on which Info-Exploreris installed), you do need to apply for a new activation code.

Info-Exploreractivation codes are not dependent on the database that you are connecting to or the version of Sage 300.

Note: You do not need to be re-issued when you upgrade from one version of Sage 300 to another.
To ReQUEST an activation code:

After installing Info-Explorer, Select the "File" option (small white cube on the top left hand side of the main menu in Info-Explorer)

Select File > Enter Registration code

Note the Computer Name.

You can send the screenshot of the Registration screen with the computer name to your business partner or to Orchid directly.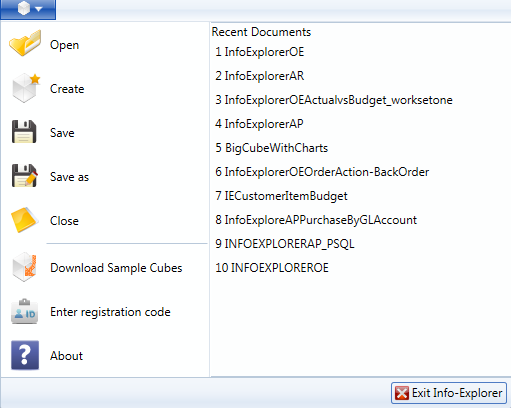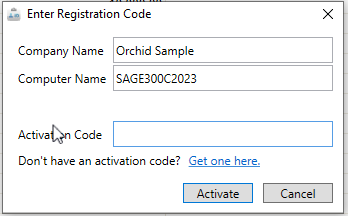 Use Get One Here link

Gather the required information and click on the "get one here" hyperlink and complete the web-site registration form on https://www.info-explorer.com/resources/info-explorer-registration-form.

An activation code will be sent to you within 48 hours.
Next steps

Enter the Activation Code: Register Info-Explorer

Getting started with Info-Explorer - Refer to Using Info-Explorer

See also Working with Info-Explorer – Home Tab