Setup and Use EFT Clearing Bank
When to use a Clearing Bank in EFT Processing A/P

When posting a batch of payments in AP, the individual payments go onto the Bank Reconciliation in Bank Services. Many banks, however, show EFT Payments in total on the bank statement. While all the payments can be reconciled in "one hit" using the payment reference number, it is often easier to reconcile if the total of the payment batch is reflected on the Bank Services statement.

If you would like the AP Payment batch to post to Bank Services "in total", you can set up your EFT Bank as a "Clearing" bank type, and link it to the actual bank account, as shown below.

When you post your AP Payment batch against a Common Services Bank which has been configured in EFT Banks as a "Clearing" bank type (EFTCLEAR in the screen shot below), EFT Processing will automatically create a bank transfer between the EFT Clearing bank (EFTCLEAR) and the actual bank account (CCB in the screen shot below) and post the bank transfer.
Setup

If you choose "Clearing Bank" for the EFT Bank Type– you have to select the Bank for which this clearing account is for on the EFT Banks setup screen. (Refer to For Bank in the EFT Bank Setup Screen).

The Clearing Bank and the regular bank are both created in Bank Services.

Note:

If your company uses Multi-currency, In Bank Services, Banks Options > Processing, check that the Transfer Adjustment G/L Account is configured correctly.

If it is blank, you will receive an error message when creating an EFT file for the clearing bank and the transfer will not be created: 

Transfer Adjustment GL Acct cannot be blank.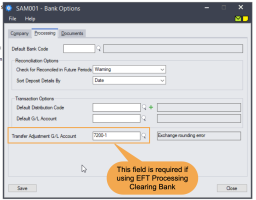 Processing A/P Payments:

1. When the user creates an AP Payment batch, they select the EFT Clearing Bank as the bank for the batch.

2. When the payment batch is posted, EFT Processing automatically creates a bank transfer, making a drawing in the actual bank account and a deposit to the EFT Clearing Bank.

3. Bank reconciliations are performed as usual using the regular Bank in Bank Services - the EFT clearing bank account will be used for reversals or single line reconciliations only.

Note:

EFT clearing account balance should always be 0.00.

Payments in the EFT clearing will always be available to be reversed as that account will never be reconciled and posted.
Note:
Clearing bank is only available with EFT AP Payments. It is not available with AR Receipts or Payroll transactions.
In Accounts Receivable, you can choose whether or not Deposits are posted to the bank as one entry or individual entries. The "clearing bank" feature is not relevant for AR Receipts. You must post AR Receipt batches to the regular bank account, and set up the EFT File Type on the regular bank account in EFT Banks.