Register Info-Explorer Lite
If you are using Info-Explorer Lite (free version of Info-Explorer), you can apply for an activation code to continue using the demonstration cubes after the 30 day trial. 
With Info-Explorer Lite, you can only open and refresh Orchid demo cubes available from Info-Explorer menu > Download sample cubes or the Orchid website.
Note: Some cubes in the Info-Explorer Sample cubes are not available with Info-Explorer Lite as they require features not available in Info-Explorer Lite.
Other limitations of Info-Explorer Lite include:
You cannot "Create Cube"
Result sets not being able to be exported to Excel, CSV or HTML.
The cube SQL query cannot be amended
Note:
Contact your Sage 300 business partner to purchase Info Explorer Full licence to create your own cubes, modify the queries or Info Explorer Write Back for writeback functionality.
To request an activation code:

From Info-Explorer, Click File > Enter Registration code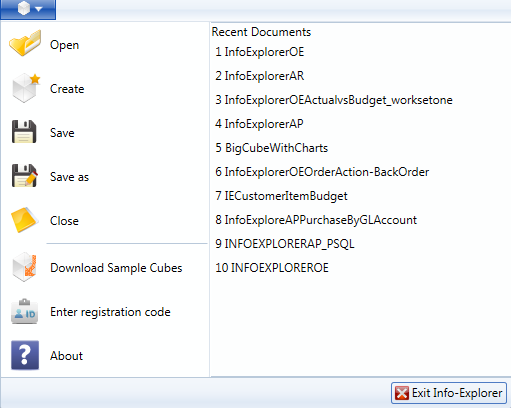 Use Get One Here link

Gather the required information and click on the "get one here" hyperlink and complete the web-site registration form on https://www.orchid.systems/resources/info-explorer-registration-form. An activation code will be sent to you within 48 hours.

 
Enter Activation Code

When you have received your activation code
Click File > Enter Registration code and copy and paste the activation code sent by Orchid Systems in the Activation Code box, and click "activate"
Next steps

Getting started with Info-Explorer - Refer to Using Info-Explorer

See also Working with Info-Explorer – Home Tab